Shiva Ahmadi was born in Tehran, Iran in 1975 and currently lives and works in Bay area, California. She received her BFA from Azad University, Tehran, in 1998; and MFA's from Cranbrook Academy of Arts and Wayne State University. Her paintings explore the powerful intersection of religion and politics, examining the corrupt and cancerous link between East and West. She creates fantastical realms, suggestive of her own experiences of the destruction and chaos wrought by war. Her faceless abstract figures inhabit war-ridden territory, and her watercolor paint bloodies the canvas. Ahmadi has worked across a variety of two-dimensional and three-dimensional media, including oil drums, paper, Aquaboard, and most recently video animation. Consistent throughout her pieces are ornate patterns, rendered in vibrant golds and reds and influenced by Persian, Indian and Turkish traditions. She both celebrates and commemorates the raw beauty and turmoil of these cultures' histories.

Ahmadi has participated in many significant exhibitions in recent years, which include: Global/Local 1960-2015: Six Artists from Iran at NYU's Grey Art Gallery in 2016; Iran Inside Out at the Chelsea Art Museum in 2009; and The Fertile Crescent: Gender, Art and Society in the Middle East Diaspora at Rutgers University in 2012. In 2014 she had her first museum solo exhibition at The Asia Society in New York. Her work is in the permanent collections of the Metropolitan Museum of Art, New York, NY; The Asia Society Museum, New York, NY; Museum of Contemporary Art (MOCA), Los Angeles, CA; the Detroit Institute of Arts, Detroit, MI; the DePaul Art Museum, Chicago, IL; the Herbert F. Johnson Museum of Art at Cornell University, Ithaca, NY; the TDIC Corporate Collection, Abu Dhabi, UAE; and the Farjam Collection, Dubai, UAE.
Image: Safe Haven; Watercolor on aqua board; 120 X 60 in.; Permanent collection of Museum of Contemporary Arts, LA
Laura Anderson Barbata
Visual Art
Born in Mexico City and based in New York.

Since 1992 she has worked primarily in the social realm, and has initiated projects in the Amazon of Venezuela, Trinidad and Tobago, Mexico, Norway and the USA. Among them is her ongoing project The Repatriation of Julia Pastrana, initiated in 2004, which resulted in the successful removal of the body of Julia Pastrana from the Schreiner Collection in Oslo to be repatriated and buried in Sinaloa, Mexico, Pastrana´s birth state. The project continues with an upcoming publication and Opera. She is also known for her project Transcommunality (ongoing since 2001), with traditional stilt dancers: The Brooklyn Jumbies from New York, West Africa and the Caribbean, and los Zancudos de Zaachila, from Oaxaca, Mexico. This project has been presented at various museums, public schools and avenues, among them The Museum of Modern Art New York; The Modern Museum Fort Worth Texas; Museo Textil de Oaxaca, México; Museo de la Ciudad de México; BRIC, New York and Rutgers University, among others.

Her drawings, photographs, and projects have received awards by the Institute of Bellas Artes FONCA, The Lindbergh Foundation, The Carnival Comission of Trinidad and Tobago and The New York Foundation for the Arts.

Her work is included in various collections private and public, among them: The Metropolitan Museum of Art, New York; el Museo de Arte Moderno, México D.F.; Landesbank Baden-Württemberg Gallery, Stuttgart, Germany; The Sprint Nextel Collection, Overland Park; Fundación Cisneros, American Express Co. México; Museo Carrillo Gil, México; Museum of Contemporary Art, San Diego, CA; Museo Jaureguía, Navarra, España. And has been featured in: The New York Times, Sculpture Today by Phaidon Press, Kunstforum Germany, ARTnews, Art in America, ArtNexus, 160 Años de Fotografía en México-INBA, among others.

Currently is: The Estelle Lebowitz Endowed Visiting Artist 2016-2017, Center for Women and Humanities, CWAH, Rutgers University; Honorary Fellow: Latin American, Caribbean and Iberian Studies Program, LACIS, University of Wisconsin, Madison; Fellow: Thyssen Bornemisza Art Contemporary TBA21: The Current and Miembro del Sistema Nacional para Creadores del Fondo Nacional para la Cultura y las Artes, CONACULTA, México.
Image: Intervention: Wall Street, 2011; Laura Anderson Barbata in collaboration with the Brooklyn Jumbies; Performance, New York financial district; Photo: Frank Veronsky
Tania Bruguera
Performance Art
Tania Bruguera researches ways in which art can be applied to the everyday political life; focusing on the transformation of social affect into political effectiveness. Her long-term projects have been intensive interventions on the institutional structure of collective memory, education and politics.

Awarded an Honoris Causa by The School of the Art Institute of Chicago, selected one of the 100 Leading Global Thinkers by Foreign Policy magazine, shortlisted for the #Index100 Freedom of Expression Award, a Herb Alpert Award winner, a Hugo Boss Prize finalist, a Yale World Fellow and the first artist-in-residence in the New York City Mayor's Office of Immigrant Affairs (MOIA). In 2013 was part of the team creating the first document on artistic freedom and cultural rights with the United Nation's Human Rights Council.

Tania's work has explored both the promise and failings of the Cuban Revolution in performances that provoke viewers to consider the political realities masked by government propaganda and mass-media interpretation. In 2014, she was detained and had her passport confiscated by the Cuban government for attempting to stage a performance about free speech in Havana's Revolution Square. She had planned to set up a microphone and invite people to express their visions for Cuba. In May 2015, she opened the Institute of Artivism Hannah Arendt, in Havana.

Her work was exhibited at Documenta 11, Venice Biennale, Tate Modern, Guggenheim and Van Abbemuseum, among others. She lives and works in New York and Havana.
Image: Tatlin's Whisper #6 (Havana version); Decontextualization of an action, Behavior Art Materials: Stage, Podium, Microphones, 1 Loudspeaker inside and one outside of the building, 2 persons on a military outfit, White dove, 1 minute free of censorship per speaker, 200 disposable cameras with flash; Photo: Courtesy of Studio Bruguera, Yo Tambien Exijo Platform, Solomon R. Guggenheim, New York, Guggenheim UBS MAP Purchase Fund, 2014. © Tania Bruguera
Sonya Clark
Visual Art and Craft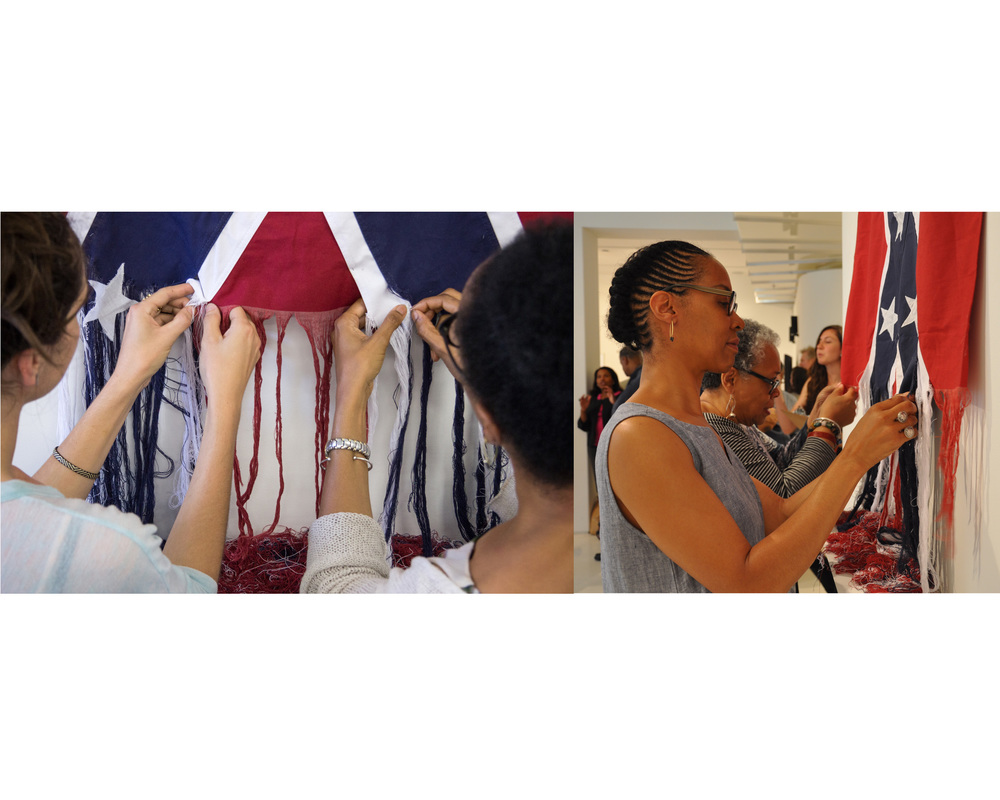 (Born Washington, DC, 1967) Sonya Clark's work draws from the legacy of crafted objects and the embodiment of skill. As an African American artist, craft is a means to honor her lineage and expand notions of both Americanness and art. She uses materials as wide ranging as textiles, hair, beads, combs, and sound to address issues of nationhood, identity, and racial constructs. She has been a full professor and Chair of the Craft and Material Studies Department at Virginia Commonwealth University School of the Arts in Richmond, Virginia for over a decade. Formerly she was Baldwin-Bascom Professor of Creative Arts at the University of Wisconsin-Madison. She holds an MFA from Cranbrook Academy of Art and she was awarded their first Mid-Career Distinguished Alumni Award in 2011. She also holds a BFA from the School of the Art Institute of Chicago. In 2015 she was awarded an honorary doctorate from her alma mater Amherst College where she received a BA. She has exhibited her work in over 300 museums and galleries in Europe, Africa, Asia, Australia, and the Americas. She is the recipient of several awards including an Art Prize Grand Jurors co-prize, a Pollock-Krasner Grant, a Smithsonian Artist Research Fellowship, a Rockefeller Foundation Bellagio Fellowship in Italy, a BAU Camargo Fellowship in France, a Red Gate Residency in China, a Civitella Ranieri Residency in Italy, an 1858 Prize for Contemporary Southern Art, a United States Artist Fellowship, and an Art Matters Grant. Her work is in the collections of the Philadelphia Museum of Art, National Museum of Women in the Arts, Indianapolis Museum of Art, Virginia Museum of Fine Art, Musees d'Angers in France among several other institutions. Several publications have reviewed her work including the New York Times, Philadelphia Inquirer, Italian Vogue, Los Angeles Times, Hyperallergic, and Huffington Post.
 
Image: Unraveling, 2015 (edition of 5); cotton Confederate Battle Flag; 5ft x 3ft; image from performance on June 11, 2015 in NYC; photo credits Taylor Dabney and Holly Hansen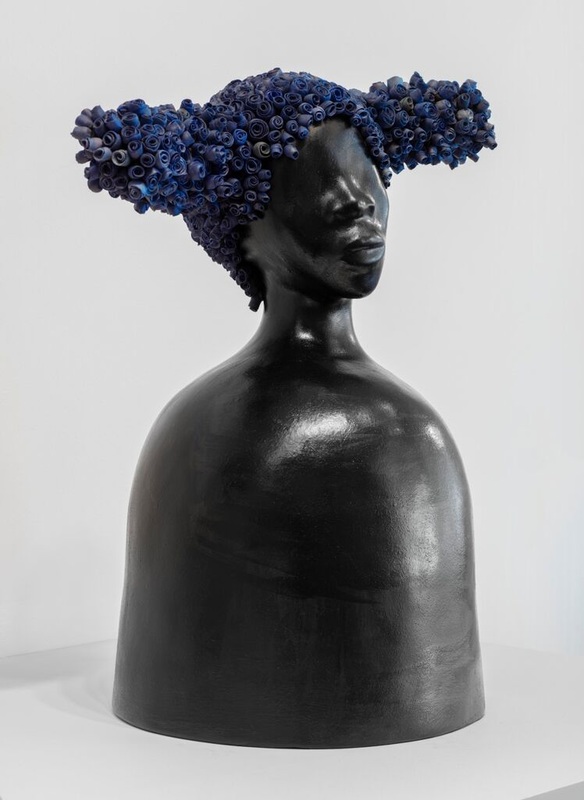 Leigh's practice incorporates sculpture, video, and installation; all are informed by her ongoing exploration of black female subjectivity and ethnography. Her objects often employ materials and forms traditionally associated with African art; her performance-influenced installations create spaces where historical precedent and self-determination comingle. Through her investigations of visual overlaps between cultures, time periods, and geographies, she confronts and examines ideas of the female body, race, beauty, and community.
In 2016, Leigh received a John Simon Guggenheim Fellowship, the Herb Alpert Award for Visual Art, and A Blade of Grass Fellowship for Socially Engaged Art. She has also been the recipient of the 2013 Louis Comfort Tiffany Foundation Biennial Award, a 2012 Creative Capital Grant, the 2012 LMCC Michael Richards Award, and the 2011 Joan Mitchel Foundation Grant for Sculpture. Recent exhibitions include The Waiting Room (2 016) at the New Museum of Contemporary Art in New York, The Free People's Medical Clinic (2014) a project commissioned by Creative Time, and solo presentations at The Fowler Museum at UCLA, The Atlanta Contemporary Art Center, and The Kitchen in New York. Current projects include inHarlem, a public installation presented by The Studio Museum in Harlem in Marcus Garvey Park, New York, and a solo exhibition at the Hammer Museum in Los Angeles. In November, she will present Psychic Friends Network at Tate Modern in London.
 
Image: Althea, 2016; Terracotta, India ink, porcelain, cobalt and epoxy; 26 x 24 x 15 inches (66 x 61 x 38.1 cm)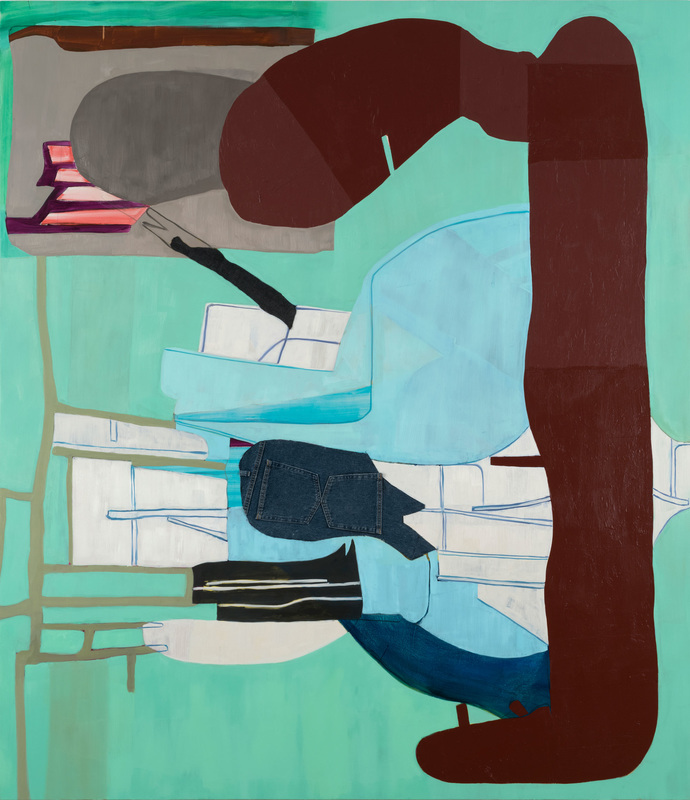 MacPhee's work has been a reflection on the alien, the unknown, the absent. A meditation on survival both personal and as part of a species. A visual anthropologist whose sources include art history as well as literature, technology and natural history depending on different bodies of work over the years.

Currently she is combining painted structures, collaged elements and uses of large flat acrylic transfers relating to the architecture of language. An arena where the "real" doesn't overwhelm the imagined and verbal/visual language is malleable. The pauses and gaps, the symbiotic relationship between the present and absent, the subterranean level of feeling and instinct that lies under words, and the force of their undertow are reflected in the paintings.

Her work has been exhibited in over thirty solo and seventy group exhibitions in North America and Europe. She is represented in various private and public collections including: the National Gallery of Canada; the Metropolitan Museum of Art, New York; the Musée d'art contemporain de Montréal; the Art Gallery of Ontario and The Palmer Museum of Art of Pennsylvania State University.

The artist is a recipient of a John Simon Guggenheim Grant, a National Endowment for the Arts Grant , New York Foundation for the Arts Grants, the Elizabeth Greenshields Award, and Canada Council Established-Artist Grants. Most recently she participated in the 2015 American Academy of Arts and Letters Invitational Exhibition of Visual Arts.

MacPhee (b. Edmonton, Alberta) has a BFA from Nova Scotia College of Art, lives and works in NYC and currently is the Sherri Burt Hennessey Artist-In-Residence at Bard College in Annandale-on-Hudson, New York.
Image: "Out of Pocket" | Oil and collaged materials on canvas | 90"x 78" 2016
Eiko Otake
Interdisciplinary Art and Performance
Born and raised in Japan, Eiko Otake is a New York-based interdisciplinary artist, performer, and choreographer. Her solo project A Body in Places started with a 12-hour performance at Philadelphia's 30th Street Station in 2014. Since then Eiko has presented its numerous iterations in cities around the world. The project also includes A Body in Fukushima, a series of photographs by William Johnston of Eiko performing in desolate and irradiated Fukushima, Japan. Using archival footage and photographs of her performances as source material, Eiko also creates media works and video installations. In the spring of 2016, Eiko was the subject of Danspace Project's Platform, a month-long curated program. In addition to performing a daily solo, Eiko led a book club, a film series, an exhibition, weekly installations, workshops, and performing events with other invited artists.

Prior to her solo career, Eiko worked as one half of Eiko & Koma for more than 40 years. Performing worldwide their own works, Eiko & Koma collaborated in creating choreography, sets, costumes, text, media work, and sound. Eiko & Koma's multi-faceted, multi-site Retrospective Project (2009-2012) included the premiere of new performance works, installations, museum exhibitions, and media works; restaging old works; and presenting film showings, panels and lectures. In 2011 The Walker Art Center published Eiko & Koma: Time is Not Even, Space is Not Empty, a comprehensive monograph of their works. Eiko & Koma were honored with double Guggenheim Fellowships (1984), a MacArthur Fellowship (1996), the Samuel H. Scripps American Dance Festival Award (2004), the first United States Artists Fellowship (2006), and a Dance Magazine Award (2006). In 2012 both Eiko and Koma individually were honored with an inaugural Doris Duke Performing Artist Award.

As visiting artist of Wesleyan University, Eiko teaches interdisciplinary college courses on the Atomic Bomb and other environmental disasters using movement as means of inquiry. She has also taught Colorado Collage, the New School, and NYU.
Image: A Body in a Station; Eiko performed her solo at Fulton Center, New York City as part of 2015 River To River Festival; photo by William Johnston; June 22, 2015
Born in Brooklyn, New York, in 1952, Pondick studied at Queens College (B.A. 1974) and at Yale University School of Art (M.F.A. 1977). Pondick's work has been the subject of exhibitions at the Galleria d'Arte Moderna Bologna, Italy; Groninger Museum, Groningen, Netherlands; Rupertinum Museum für moderne und zeitgenössische Kunst, Salbzburg, Austria; Cleveland Art Museum; Cincinnati Art Museum; Worcester Art Museum, Massachusetts; DeCordova Museum and Sculpture Park, Lincoln, Massachusetts; Cranbrook Art Museum, Bloomfield Hills, Michigan; and the Israel Museum, Jerusalem, among others. Her sculptures have been included in numerous biennales worldwide, including the Whitney Biennial, Lyon Biennale, Johannesburg Biennale, Sonsbeek, and Venice Biennale. Pondick has participated in group exhibitions at museums internationally including the Mori Art Museum, Tokyo; Peggy Guggenheim Foundation, Venice; Museo de Arte Contemporânea de Serralves, Porto, Portugal; Ca'Pesaro, Galleria Internazionale d'Arte Moderna, Venice; Centre Pompidou, Paris; Palais des Beaux-Arts de Lille, France; Pera Museum, Istanbul; MIT List Visual Arts Center, Cambridge, Massachusetts; and the Philadelphia Museum among many others.

Pondick has been the recipient of a number of awards, grants, and fellowships from the Guggenheim, Rockefeller, Bogliasco, Ludwig Vogelstein, and Mid-Atlantic Arts Foundations, the Cultural Department of the city of Salzburg, Art Matters, and New York State Council on the Arts.

Her work is in the collection of many prominent public collections internationally, including the Whitney Museum of American Art, New York; The Metropolitan Museum of Art, New York; Brooklyn Museum of Art; Philadelphia Museum of Art; Yale University Art Gallery, New Haven; Los Angeles County Museum of Art; Museum of Contemporary Art, Los Angeles; Nasher Sculpture Center, Dallas; San Francisco Museum of Art; New Orleans Museum of Art (Sculpture Garden); The Nelson-Atkins Museum, Kansas City; Carnegie Museum of Art, Pittsburgh; Centre Pompidou, Paris, and Israel Museum, Jerusalem. Pondick lives and works in New York.
Image: Fox; Stainless Steel. | Edition of 6 + 1 AP; 14 ½ x 8 x 38 inches; Courtesy Galerie Thaddaeus Ropac, London/Paris/Salzburg; Sonnabend Gallery, New York; Zevitas/Marcus Gallery, Los Angeles; and the artist; 1998-99
Lourdes Portillo
Documentary Film Direction and Production
Born in Chihuahua, Mexico, and raised in Los Angeles, Lourdes Portillo has been making award-winning films about Latin American, Mexican, and Chicano/a experiences and social justice issues for nearly thirty years. Since her first film, After the Earthquake/ Despues del Terremoto (1979), she has produced and directed over a dozen works that reveal her signature hybrid style as a visual artist, investigative journalist, and activist.

Portillo's fourteen completed films include the Academy Award® and Emmy® Award nominated Las Madres: The Mothers of the Plaza de Mayo (1986), La Ofrenda: The Days of the Dead (1988), Columbus on Trial (1992), The Devil Never Sleeps (1994), Corpus: A Home Movie for Selena (1999), My McQueen (2004), and her new short film, Al Más Allá (2008). Her most recent feature-length film, Señorita Extraviada(2001), a documentary about the disappearance and death of young women in Ciudad Juárez, Mexico, received a Special Jury Prize at the Sundance Film Festival, Best Documentary at the Havana International Film Festival, the Nestor Almendros Award at the Human Rights Watch Film Festival, and an Ariel, the Mexican Academy of Film Award.

Portillo's work has screened at premiere cultural institutions and events around the world such as the Venice Biennale, Toronto International Film Festival, London Film Festival, the São Paulo International Film Festival, the Walker Art Center, the Whitney Museum for American Art, the Guggenheim Museum, Metropolitan Museum of Art, and in the New Directors/New Films program presented by the Film Society at Lincoln Center and the New York Museum of Modern Art. She has been honored with eight mid-career retrospectives, including exhibitions at the Buenos Aires Museum of Modern Art, the Pacific Film Archive of the Berkeley Art Museum, and the Cineteca Nacional de Mexico, and she is the subject of the critical anthology, Lourdes Portillo: The Devil Never Sleeps and Other Films edited by Rosa Linda Fregoso (University of Texas Press, 2001). On July 2012 she was honored at NYMoMA with a full retrospective of her works.

Image: Guillermina Gonzales holds the picture of her disappeared sister Sagrario Gonzales
Shinique Smith
Visual Artist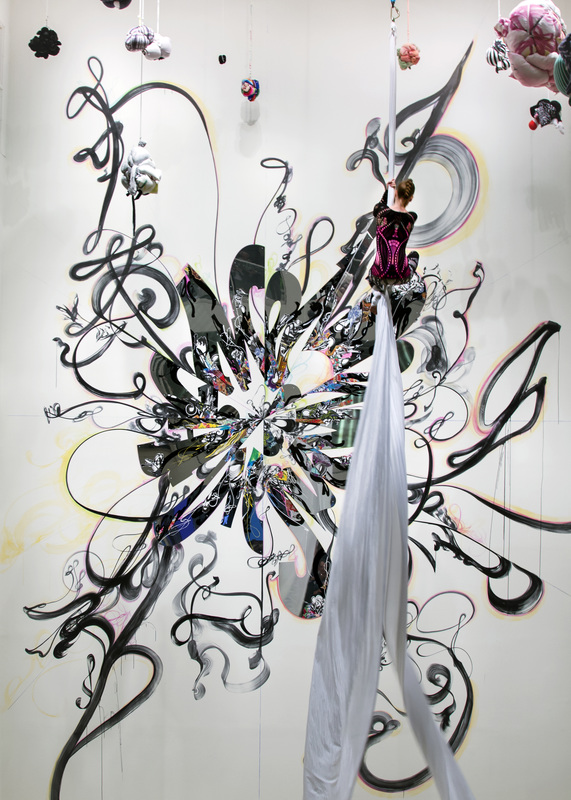 Shinique Smith (B.1971 in Baltimore, MD), is a New York based artist known for her mixed media painting, sculptural, and installation works, of fabric, calligraphy and collage, inspired by the vast nature of 'things' that we consume and discard, which resonate on a personal and social scale. The Graffiti of her youth, Japanese calligraphy, and Abstraction are among the influences from which she extracts "the graceful and spiritual qualities in written word & the everyday."

Her work has also been exhibited at the Brooklyn Museum of Art, Corcoran Gallery of Art (Washington DC), Denver Art Museum, The Detroit Institute of Arts, Los Angeles County Museum of Art, Madison MOCA, The Bronx Museum of the Arts, MOCA (North Miami), The Museum of Fine Arts (Boston), National Portrait Gallery (Washington DC), The New Museum (New York), MOMA/PS1 (New York), The Rubell Family Collection (Miami), and Studio Museum in Harlem (New York).

Smith's work is in the permanent collections of The Museum of Fine Arts (Boston), LACMA, Brooklyn Museum of Art, Denver Art Museum, and the Whitney Museum of American Art, among others, as well as in numerous private collections worldwide.

The artist has had more than 20 solo exhibitions, most recently at MOCA Jacksonville (Florida) and at The Frist Center for the Arts in Nashville, who released a comprehensive exhibition catalogue with Vanderbilt Press in October of 2016.

Presentations of her work have recently been exhibitied in the 8th Busan Biennale in Korea (2016) and the 13th Bienal de Cuenca in Ecuador (2016).

She has received awards and fellowships from the Louis Comfort Tiffany Foundation, the Joan Mitchell Foundation, New York Foundation for the Arts, Skowhegan School of Painting and Sculpture, Vermont Studio Center, the Headlands Center for the Arts and the Lower Manhattan Cultural Council.

Smith earned an MFA from Maryland Institute College of Art (2003), an MAT from Tufts University & The Museum School (2000) and a BFA (1992) from Maryland Institute College of Art, where she also served on the Board of Trustees (2013-2016).

Her work is represented by Brand New Gallery, Milan and David Castillo Gallery in Miami.
Image: Quickening; Mirror, acrylic, collage, fabric, objects, ribbon and rope; Aerialist performance collaboration with Bittersweet Studios for her Project Atrium installation | Quickening at MOCA Jacksonville. |Image courtesy of Thomas Hager; 2016