Nancy Bowen
Sculpture and Drawing
Nancy Bowen is a mixed media artist known for her eclectic mixtures of imagery and materials in both two and three dimensions. Her sculpture and drawing exists in an in -between zone of form and idea, of abstraction and representation. Her work offers a poetic commentary on our quickly changing material culture. Like an artistic archeologist in this age of globalization and post-industrialization, she salvages (often disappearing) ornament and craft traditions and incorporates them into pieces that are shaped by the past while imagining the future.

Her work has been exhibited in over a dozen solo and a hundred group exhibitions in the United States and Europe. She is represented in various public and private collections including the Corning Museum of Glass, The Neuberger Museum and DePauw University Galleries.

Bowen has won awards from the National Endowment for the Arts, the New York Foundation for the Arts, and the Westchester Arts Council. She has had residencies at The MacDowell Colony, Yaddo, The Jentel Foundation, the European Ceramic Work Center and the Brown Foundation at the Dora Maar House in France.

She received a BFA from the School of the Art Institute of Chicago and an MFA from Hunter College (CUNY).

She is currently an Associate Professor of Sculpture at Purchase College, S.U.N.Y. She maintains a studio in the Brooklyn Navy Yard.
Image: Artemis' Dilemma
Martha Diamond was born and raised in New York City. She received her BA from Carleton College in Minnesota in 1964 and spent the following year in Paris. She returned to New York to receive an MA from New York University in 1969. She has been based in New York ever since. She has had solo shows at the Brooke Alexander Gallery and the Robert Miller Gallery in New York, at the New York Studio School and at the Bowdoin College Museum of Art and the Portland Museum of Art in Maine.

She has participated in group shows at such places as the American Academy of Arts and Letters (which honored her with an Academy Award in 2001), the American Center in Paris, the Brooklyn Museum, the Detroit Institute of Fine Arts, Harvard University, the Kuznetsky Most Exhibition Hall in Moscow, the Mary Ryan Gallery and the Sidney Janis Gallery in New York, the University of Chicago, and the Whitney Museum of American Art (which included her in its 1989 Biennial).

Her work is in the permanent collection of many institutions, including Colby College Museum, the Australian National Gallery, the Brooklyn Museum, the Fogg Museum at Harvard, the Museum of Fine Arts in Boston, the Museum of Fine Arts in Houston, the Museum of Modern Art in New York, the North Carolina Museum of Art, the Staatliche Museum in Berlin, and the Whitney Museum. She has taught at the Cooper Union, at Harvard, and at the Skowhegan School of Painting and Sculpture.
Image: City Scape with Blue Shadow, 1994
Stephanie Jackson
Painting
Stefanie Jackson grew up in Detroit where she attended Cass Technical High School majoring in art. In the mid-seventies, she moved to NYC to study at Parson's School of Design, the New School and Parson's in Paris. She moved to New Orleans in the mid-eighties where she maintained a studio and continued her art practice. She eventually returned to New York where she received an MFA in painting and printmaking from Cornell University. In 1994 she received her first major grant from the Jackson Pollock and Lee Krasner foundation. Stefanie has lived and worked in Athens, Georgia since the nineties, maintaining a studio at her home. In 2002, she was a recipient of the Adolph and Esther Gottlieb Foundation Award in recognition of twenty years of sustained art making. The Detroit Institute of Arts recently acquired a painting on view in the galleries devoted to African American art. Stefanie Jackson had a solo exhibition "La Sombuca y el Espiritu" at the Robert and Sallie Brown Museum University of North Carolina, Sonja Haynes Stone Center 2016. The artist participated in a group exhibition Shifting African American Women Artists and the Power of their Gaze at the David C. Driskell Center Gallery, University of Maryland in March 2017. She has attended artist in residence programs including several in France and the United States. Her work is in the collection of Georgia Museum of Art, Birmingham Museum of Art, Larry and Brenda Thompson Collection of African America Art and the Kerry and C. Betty Davis Collection and the Clarke Atlanta University Art Galleries.
Image: What's Going On, 2010, WGO Series #8, Diptych Painting, 6' x 8'
Marisa Morán Jahn
Sculpture, Film, Video, Public art, Performance
Of Chinese and Ecuadorian descent, Marisa Morán Jahn is an artist and the founder of Studio REV-, a non-profit organization whose public art and creative media impacts the lives of low-wage workers, immigrants, women, and youth. Key projects include El Bibliobandido (a masked bandit who EATS stories), Video Slink Uganda (experimental films slipped or "slinked" into Uganda's bootleg cinemas),Contratados (a Yelp! for migrant workers), an app for domestic workers named by CNN as "one of 5 apps to change the world", and the CareForce (a public art project, PBS docu-series co-produced with Oscar and Emmy-winning filmmaker Yael Melamede, and two mobile studios — the NannyVan and the CareForce One — amplifying the voices of America's fastest growing workforce, caregivers).

A graduate of MIT, she has taught thousands of k-12 youth from historically underserved communities since 1999 at venues such as the American Museum of Natural History, Stanford University's Cantor Art Museum, Seattle Public Libraries, and the Boys and Girls Clubs of America. She regularly teaches college-level students at MIT, Teachers College at Columbia University, and The New School.

Jahn has presented her work at The White House in DC under the Obama administration, museums (Museum of Modern Art, Yerba Buena Center for the Arts, Studio Museum of Harlem, Walker Art Center, Brooklyn Museum); festivals/fairs (ArtBrussels, Zero One, Tribeca Film Festival); and worker spaces, transit hubs, libraries, and more.
She has received grants and awards from Creative Capital, Sundance Institute New Frontier Labs, Rockefeller Foundation, Tribeca Film Institute, MAP Fund, NEA and received reviews in The New York Times, Art Forum, Art in America, BBC, Univision, Los Angeles Times, Wall Street Journal, Hyperallergic, and more.
Image: Mirrored Masks. Photo by Marisa Morán Jahn of Darlyne Komukama, 2017
Jennie C. Jones
Mixed-media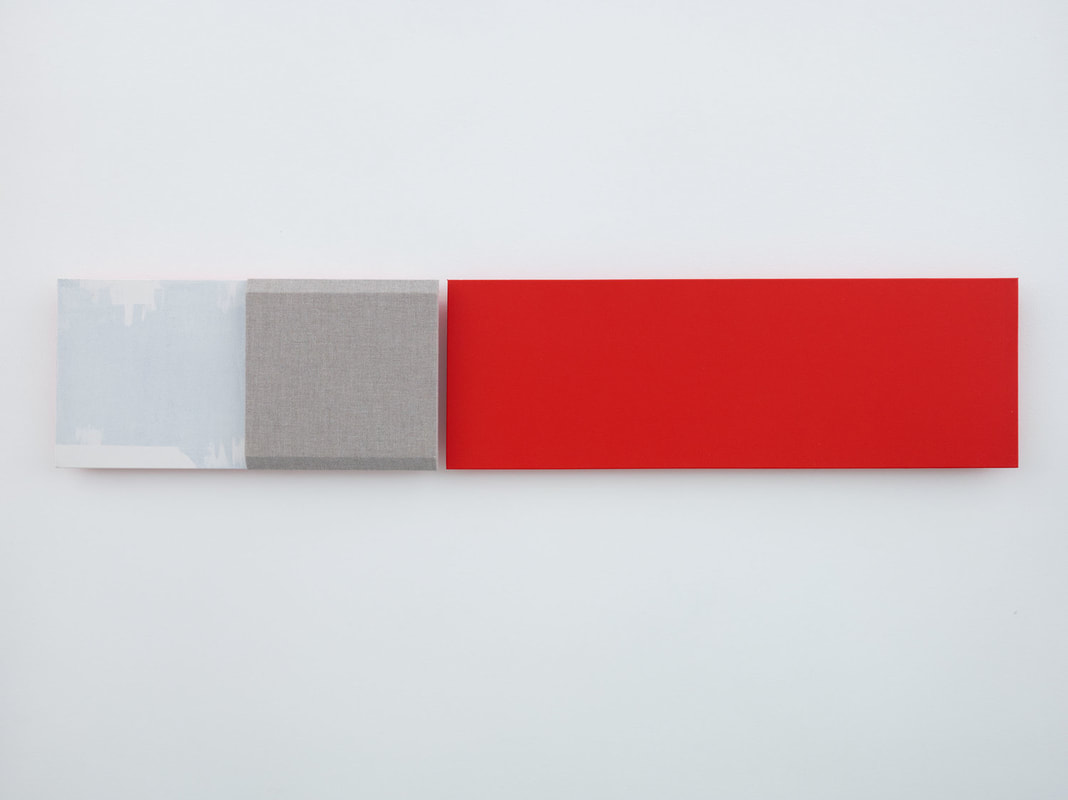 Jennie C. Jones  practice mines the territory of Modernism—abstraction and minimalism; experimental jazz; and seminal political and social shifts—to reveal the complex and often parallel legacies of the mid-20th century's social, cultural, and political experimentations.  Jones brings to light the unlikely alliances that emerged between the visual arts and modes of black avant-garde modes of music, highlighting the way they became and continue to exist as tangible markers of social evolution and political strivings.  These notions are manifested through multi-disciplinary pieces that incorporate audio, acoustic sound absorbing panels, found object sculpture, works on paper, and site based projects. 

Born in Cincinnati, Ohio, in 1968, she attended Rutgers University's Mason Gross School of the Arts where she received her Master of Fine Art degree in 1996. Prior to that she attended The School of the Art Institute of Chicago, receiving a Bachelor of Fine Art in 1991 with Fellowship. She is currently a visiting critic in the MFA Sculpture Department at Yale School of Art University. 

In 2008 she received both The William H. Johnson Prize  (given to one promising African American artist a year) and a Creative Capital Foundation grant. She was the recipient of The Studio Museum in Harlem's Wein Prize in 2012, followed by the honor of a Joan Mitchell Foundation Award in 2013 and a Foundation for Contemporary Art Award in 2016. 

Jones has works in permanent collections of: The Studio Museum in Harlem, The Museum of Modern Art New York, BNY Mellon, Pittsburg, PA, Deutsche Bank, New York, NY, Solomon R. Guggenheim Museum, New York, NY, Hirshhorn Museum and Sculpture Garden, Smithsonian Institution, Washington D.C., Los Angeles County Museum of Art (LACMA), Los Angeles, CA,  and the Zimmerli Art Museum at Rutgers University, New Brunswick, NJ among others.
Image: Red Measure, Muted and Clipped; acrylic on canvas, and acoustic panel on canvas; 2 parts: 12 x 60 inches (30.5 x 152.4 cm), overall
Amalia Mesa Bains
Visual Art
Amalia Mesa-Bains born in Santa Clara, California, is a psychologist, curator, author and artist. She received a B.A. in painting from San Jose State University before earning a M.A. in interdisciplinary education from San Francisco State University and a Ph.D. in clinical psychology from the Wright Institute in Berkeley, California, and worked for the San Francisco Unified School District as a psychologist. During the period between 1965–1985 she was the regional committee chair (Northern California) for the exhibition Chicano Art: Resistance and Affirmation. She has written Ceremony of Spirit: Nature and Memory in Contemporary Latino Art.

In 1989 she received the San Francisco Mission Cultural Center's Award of Honor, Association of American Cultures' Artist Award and the Chicana Foundation of Northern California's Distinguished Working Women Award in 1990, INTAR-Hispanic Arts Center's Golden Palm Award in 1991, and the MacArthur Fellowship award in 1992.

Mesa-Bains's first exhibit was at the 1967 Phelan Awards show that took place in the Palace of the Legion of Honor in San Francisco. She began creating altar installations in 1975. Her artistic work is often autobiographical, relating to her Mexican Catholic heritage. Although these works take the form of an altar, they are not specifically intended for religious use. According to Kristin G. Congdon and Kara Kelley Hallmark, authors of Artists from Latin American Cultures: A Biographical Dictionary, "Mesa-Bains's altars often honor women who have broken social barriers." Using techniques related to found art, Mesa-Bains has incorporated "dried leaves, rocks, pre-Columbian ceramic fragments" and other unusual materials to construct artworks such as her 1987 work Grotto of the Virgins, which is dedicated to painter Frida Kahlo (1907–1954), actress Dolores del Río (1905–1983), and to the artist's grandmother.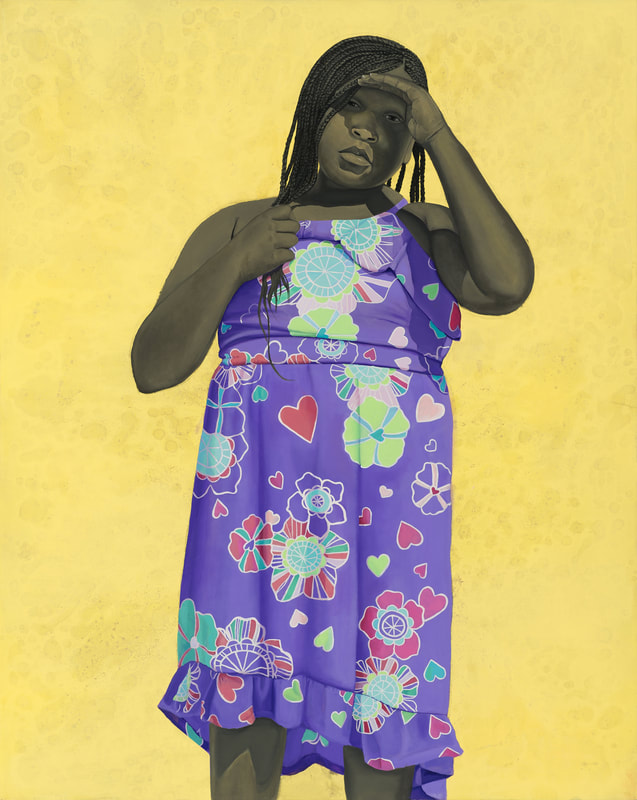 Amy Sherald (American b. Columbus, GA 1973, lives Baltimore) received her MFA in Painting from Maryland Institute College of Art (2004), BA in Painting from Clark-Atlanta University (1997), and was a Spelman College International Artist-in-Residence in Portobelo, Panama (1997). In 2016, Sherald was the first woman to win the Outwin Boochever Portrait Competition grand prize; an accompanying exhibition, The Outwin 2016, has been on tour since 2016 and will open at the Kemper Museum, Kansas City, MO in October 2017. Sherald has had solo shows at venues including Monique Meloche Gallery, Chicago (2016); Reginald F. Lewis Museum, Baltimore (2013); and University of North Carolina, Sonja Haynes Stone Center, Chapel Hill (2011). In May 2018, she will present a solo exhibition at Contemporary Art Museum, St. Louis, MO. Group exhibitions include Southern Accent, Nasher Museum of Art at Duke University, Durham, NC (2016); travelled to Speed Museum of Art, Louisville, KY (2017); Face to Face: Los Angeles Collects Portraiture, California African American Museum, Los Angeles (opens July 2017). Residencies include Odd Nerdrum Private Study, Larvik, Norway (2005); Tong Xion Art Center, Beijing, China (2008); Creative Art Alliance, Baltimore (2016); and Joan Mitchell Foundation, New Orleans (2017). Public collections include Smithsonian National Museum of Women in the Arts, Washington, D.C.; Smithsonian National Museum of African American Art and Culture, Washington, D.C.; Smithsonian National Portrait Gallery, Washington, D.C.; Columbus Museum, GA; Kemper Museum of Contemporary Art, Kansas City; and Nasher Museum of Art, Durham, NC. Sherald is represented by Monique Meloche Gallery, Chicago.
 
Image: All Things Bright and Beautiful, Oil on Canvas, 54" x 43", 2016
Michelle Stuart
Visual Art
Since the 1970s, Michelle Stuart has been internationally recognized for innovative works that synthesize Land Art, drawing, and sculpture. Stuart's original approach to material and process has seen her create large-scale site-specific works in the landscape, sculptural installations incorporating objects, drawings, and audio-visual elements, as well as photographs, drawings and sculptures that bring the material of landscape – earth and rock – into the gallery. Photography, which has been present in her work both literally and conceptually since that time, has been her primary medium since 2009. In her recent work, Stuart uses the vast archive of analog and digital photographs that she has taken and collected for almost half a century, activating their aesthetic potential by re-contextualizing them in groups, and often altering them to weave personal stories. These dreamlike recollections of her past not only continue her life-long artistic engagement with specific locations but affirm the significance of place as a unique source of memory.

Stuart has been included in documenta 6, Kassel and biennials in both Asia and the Middle East, most recently in the 57th Venice Biennale (2017). Some important exhibitions are: On Line: Drawing Through the Twentieth Century at The Museum of Modern Art, New York, 2010; Ends of the Earth: Land Art to 1974 at the Museum of Contemporary Art, Los Angeles; and Haus der Kunst, Munich, DE, 2012; Alice in Wonderland at Tate Liverpool, UK, 2012; FORTY at MoMA P.S. 1, 2016. Recent important traveling exhibitions include Michelle Stuart: Drawn From Nature in Nottingham, UK, the Parrish Art Museum, Watermill, NY, and the Santa Barbara Museum of Art, 2013–2014; and Apparitions: Frottages and Rubbings from 1860 to Now, Hammer Museum, Los Angeles; and the Menil Collection, Houston, 2015–2016. Stuart is also included in the exhibition Revolution in the Making: Abstract Sculpture by Women, 1947–2016 at Hauser Wirth & Schimmel, Los Angeles, 2016.

Stuart's work is in major museum collections, including Dia Art Foundation, New York, The Museum of Modern Art, New York; the Metropolitan Museum of Art, New York; the Whitney Museum of American Art, New York; the Museum of Contemporary Art, Los Angeles; the Los Angeles County Museum of Art; San Francisco Museum of Modern Art; the Walker Art Center, Minneapolis; the Hammer Museum, Los Angeles; Santa Barbara Museum of Art; Parrish Art Museum, Water Mill, New York; Museum of Contemporary Art, Chicago; Art Institute of Chicago; the National Gallery of Art, Washington D.C.; and internationally at the Haags Gemeentemuseum, Netherlands; Kunstmuseen, Krefeld, DE; Musee d'Art de Toulon, FR; the National Gallery of Australia, Canberra; Moderna Museet, Stockholm; and Tate Modern, London.

Stuart is represented by Leslie Tonkonow Artworks + Projects in New York; Marc Selwyn Fine Art in Los Angeles; and Alison Jacques Gallery in London.
Image: Ring of Fire; Wall: archival inkjet photographs; metal table: stones and stone tools, container, seeds, basket, reeds, Polynesian tapa cloth, cotton cloth ;Wall: 58 x 118"; Table: 28.5 x 40 x 18.25"; 2008-10
Mia Westerlund Roosen
Sculpture
Mia Westerlund Roosen was born in 1942 in NYC. She has been represented by Willard Gallery, Leo Castelli Gallery, Lennon Weinberg Gallery, and the
Betty Cuningham Gallery.

She has been awarded an N E A Grant, a Guggenheim, and a Fulbright and she is in the collections of the Yale Art Museum, the Allbright Knox, the
National Gallery of Canada, the Metropolitan Museum and the Guggenheim among others.

She lives and works in NYC and Buskirk, NY.
Image: Foam Head II, Concrete and Foam, 20"x 21.5"x 15.75", 2016
Carrie Yamaoka is a New York-based visual artist working in the expanded field of painting.

Her works emerge out of a negotiation with materials and materiality. Using a ground of reflective silver mylar, the works occupy a physical and perceptual space, rife with surface incident, ripples and air bubbles created by process, along with other evidence of their facture. Yamaoka uses materials and processes in ways that allow a window to open between chance and intention. She breaks the rules to arrive at that intersection, engaging with chance, error and defect: the lifting off of paint, the peeling and cracking and crawling of resin. She works with the topography of surfaces, the tactility of the barely visible, making the invisible perceptible. The viewer is placed at the intersection between the record of chemical action/reaction and the desire to apprehend a picture emerging in fleeting and unstable states of transformation. The picture arrived at, in any given moment, is in flux, and is contingent upon the viewer's stance in relation to the work, and their navigation through the space that the painting occupies and reflects.

Exhibiting in the US and Europe since the 1980s, Yamaoka's work has been featured in twenty solo gallery exhibitions and numerous group shows– at Greater New York 2015 at MoMA/PS1, the Mannheimer Kunstverein, CAN Neuchatel, MMKA, the Wexner Center, the Albright-Knox, MassMOCA and Artists Space, among other venues. Roberta Smith of the New York Times has written: "her efforts intimate a rejuvenation of Minimalism, spurred by new materials, more refined techniques and fresh ideas." Ken Johnson, also in the New York Times, called her work " a seductive marriage of voluptuous materialism and rigorous formalism." Yamaoka is a founding member of the queer art collective fierce pussy.
Image: Crawl/Bend; Urethane Resin and Mixed Media on Reflective Mylar; 29" x 41" x 10"; 2007/2015 |